Acoustic guitar in Brisbane won't get any better than you will find at BIGFest!
Magda Productions and Guitar Brisbane are bringing some of the world's leading classical and instrumental guitarists to Brisbane.
---
Gian Marco Ciampa & Campbell Diamond
Sunday 29th Sept 2018,  2:30pm – 4:30pm
Guitar Brisbane and Magda Productions present Gian Marco Ciampa & Campbell Diamond; two multi-international award-winning guitarists.
Book tickets here.
Special for concert goers: Meet and greet with our international performers – and a fabulous dinner after the Sunday concert, still at BrisWest. An opportunity to mingle with lots of other music lovers.

Rich Napoli spaghetti on crispy bread with parmesan and fresh basil, finished with herb Verde and fresh garden salad. $10.
Purchase Festival Pass here.
About Gian Marco Ciampa
Gian Marco Ciampa was born in Rome in 1990. After studying with high-calibre teachers such as Bruno Battisti d'Amario, Fabrizio Verile, Fernando Lepri and Celestino Dionisi, he graduated with top marks, distinction and Special Mention with M° Arturo Tallini from "Santa Cecilia" Conservatoire in Rome.
Since he was a child he has participated in and won several music competitions both in Italy and abroad ("Melbourne International Guitar Competition" [Australia], "Omis International Guitar Competition" [Croazia], International Competition "Alirio Diaz","International Competition "Ferdinando Carulli", International Competition "Giulio Rospigliosi"), receiving in recent years also prestigious awards: among others, the first prize at the European Classical Guitar Competition "Enrico Mercatali" (Gorizia, Italy) in 2013 and at the International Competition "Niccolò Paganini" (Parma, Italy) in 2012.
In 2016, Gian Marco gave over 40 concerts on a world tour across Australia, Germany, Denmark, Netherlands, Croatia and Italy. The 10-part Australian tour included concerts and masterclasses in prestigious venues as the Glebe Sydney Festival, the Melbourne Conservatorium, Knox Hall of Gosford and Brisbane International Guitar Festival.
In May 2015 he left for China with #CiampaBeijingTour that saw him perform with great success in concert and hold Masterclass at the "Central Conservatory of Music in Beijing," the prestigious "Academy of Opera" of Peking University and the beautiful Auditorium of 'Italian Cultural Institute of the Italian Embassy. During the summer of 2014 he won a scholarship to attend the prestigious "New York Mannes College" and is engaged in a series of concerts in the USA that led him to perform even for the famous NEW YORK CLASSICAL GUITAR SOCIETY at the Manhattan Theatre in New York. In the same year he won third prize in the prestigious "International Competition Michele Pittaluga" and the Scientific Committee of the same competition awarded him the prestigious "Golden Guitar" as best young talent.
Over the past few years Gian Marco has also been teaching both classical and electric guitar in several music schools in Rome such as the Civica Scuola delle Arti, the Cantiere della Musica, the Accademia Romana di Musica, the International Music Institute.
"A true wunderkind with a strong musical personality, he is stepping into the limelight of the International music stage." – II Tempo
About Campbell Diamond
Campbell is an internationally award winning classical guitarist currently studying in Cologne at the Hochschule für Musik und Tanz with Hubert Käppel. In 2015 he studied at the Koblenz International Guitar Academy, and prior he studied as a student of Timothy Kain and Minh Le Hoang at the ANU School of Music in Canberra, Australia. He began studying the classical guitar at the late age of 17, and now 8 years later, he is developing a reputation as one of the leading guitarists of the younger generation.
Campbell has greatly benefited from significant study periods at the Accademia Chigiana in Siena with Oscar Ghiglia, with Carlo Marchione and with Harald Schoneweg (Cherubini Quartett). He has had the privilege of participating in numerous masterclasses with musicians and scholars such as David Russell, Roberto Aussel, Zoran Dukic, Marcin Dylla, Denis Azabagic, Aniello Desiderio, Franz Halasz, Ricardo Gallén, Judicaël Perroy, Thomas Müller-Pering, Pavel Steidl, Roland Dyens.
He has given concerts all around Australia and in Japan, Korea, Germany, Switzerland, Belgium, Holland, India, Italy, Portugal, France, China, Austria, Serbia, Romania and Greece as a soloist and a chamber musician. He has appeared on ABC Classic FM, ABC Radio National, Radio Uruguay, Fine Music FM and ArtSound radio performing as a soloist and also as part of the Canberra Guitar Quartet, alongside Andrey Lebedev, Callum Henshaw and Andrew Blanch.
---
Rosa Guitar Trio
Saturday 28th September 2018,  7:30pm – 9:00pm
Guitar Brisbane and Magda Productions present the Rosa Guitar Trio; a dynamic emerging chamber ensemble know for its energetic and joyful performances of diverse repertoire that spans centuries and genres.
Book tickets here.
Purchase Festival Pass here.
Prebook Special:
Show your TryBooking pre-paid ticket at Spicy I'm Thai (100m from BrisWest Centre), and receive a 5% discount on a wonderful, pre-concert meal. Eat in on the night of the concert only. A great way to start a fabulous evening!
About The Rosa Guitar Trio
The Rosa Guitar Trio is quickly becoming one of Australia's most exciting young ensembles. Formed in 2011, the Trio has been encouraged and mentored by Karin Schaupp who describes their playing as "refined, highly engaging and deeply musical, with a masterful flexibility of rhythm which allows them to move as one through distinctive styles of music. They share a wonderful rapport amongst themselves and with their audiences."
The Rosa Guitar Trio is known for its energetic and joyful performances of diverse repertoire that spans centuries and genres. Prize-winners at numerous competitions, the trio has premiered new works written especially for them and performed at the Adelaide International Guitar Festival alongside internationally renowned artists Pepe Romero and Slava Grigoryan. In 2019 the trio were Musicians in Residence at the Banff Centre for Arts and Creativity in Canada as well as Featured Artists for Musica Viva's regional touring program. The Rosa Guitar Trio will soon release two debut recordings of contrasting styles – one of specially commissioned works by Australian and international composers, and one of all-Brazilian choro-inspired music.
Book tickets here.
---
Derek Gripper
Friday 27th September 2018,  7:30pm – 9:00pm
Guitar Brisbane and Magda Productions present Derek Gripper; a South African classical guitarist with a unique improvisatorial and cross-cultural style. Derek's concerts explore the dialogue between the disparate styles that have informed his work to date: Kora, Bach, South African jazz, Contemporary Classical and large scale improvisations. Quotations of Bach, Malian songs, virtuosic kora compositions, Southern African bow music, and avant-garde Brazilian guitar music combine to create a new solo guitar which is at once intimate and explosive, improvised and composed, traditional and new.
Book tickets here.
Prebook Special:
Show your TryBooking pre-paid ticket at Spicy I'm Thai (100m from BrisWest Centre), and receive a 5% discount on a wonderful, pre-concert meal. Eat in on the night of the concert only. A great way to start a fabulous evening!
About Derek Gripper
Derek Gripper is a classical guitarist who has taken a unique path. As a South African classical musician he found limited by the music of the traditional classical guitar and so went on a journey through different musical styles, returning always to the guitar to find ways of bringing what he learned onto the instrument.
His studies took him to India where he learned the rudiments of the Carnatic percussion language, and then to the farms of the Western Cape where he created an "avant-ghoema" string quartet language (Sagtevlei 2001) with South African composer and trumpeter Alex van Heerden. He then began to explore the limits of the classical guitar's sonority, first on eight string guitar evocations of Cape Town folk music (Blomdoorns 2003), then in compositions on a guitar by legendary luthier Hermann Hauser (Ayo 2008, Kai Kai 2009) and then in transcriptions by Brazilian composer Egberto Gismonti (The Sound of Water 2012) whose solo guitar works are an explosive rewriting of classical guitar, world music, jazz and contemporary classical. The album combines Gismonti's music with Derek's own compositions.
In 2012 he completed a ten year project to understand and translate the music of the West African kora (21 string harp) virtuoso Toumani Diabate to solo guitar, resulting in two critically acclaimed albums, One Night on Earth (Songlines Top of the World) and Libraries on Fire, the latter receiving a Songlines award for "Best Album Africa and Middle East" in 2017. The recognition from these albums resulted in concert tours the world over, performances at venues such as Carnegie Hall, and collaborations with classical guitar legend John Williams, Indian guitar master Debashish Battacharya, and West African Musicians such as Trio da Kali and Toumani Diabate himself.
In 2017 Derek returned to the studio and to his musical roots to record an album of the solo violin works of Bach, arranged on solo guitar and delivered with the phraseology and fire of a musician who has steeped himself in musics outside of the classical canon.
Book tickets here.
---
PAST EVENTS
---
The Gothenberg Combo
Friday 28th September 2018,  7:30pm – 10:00pm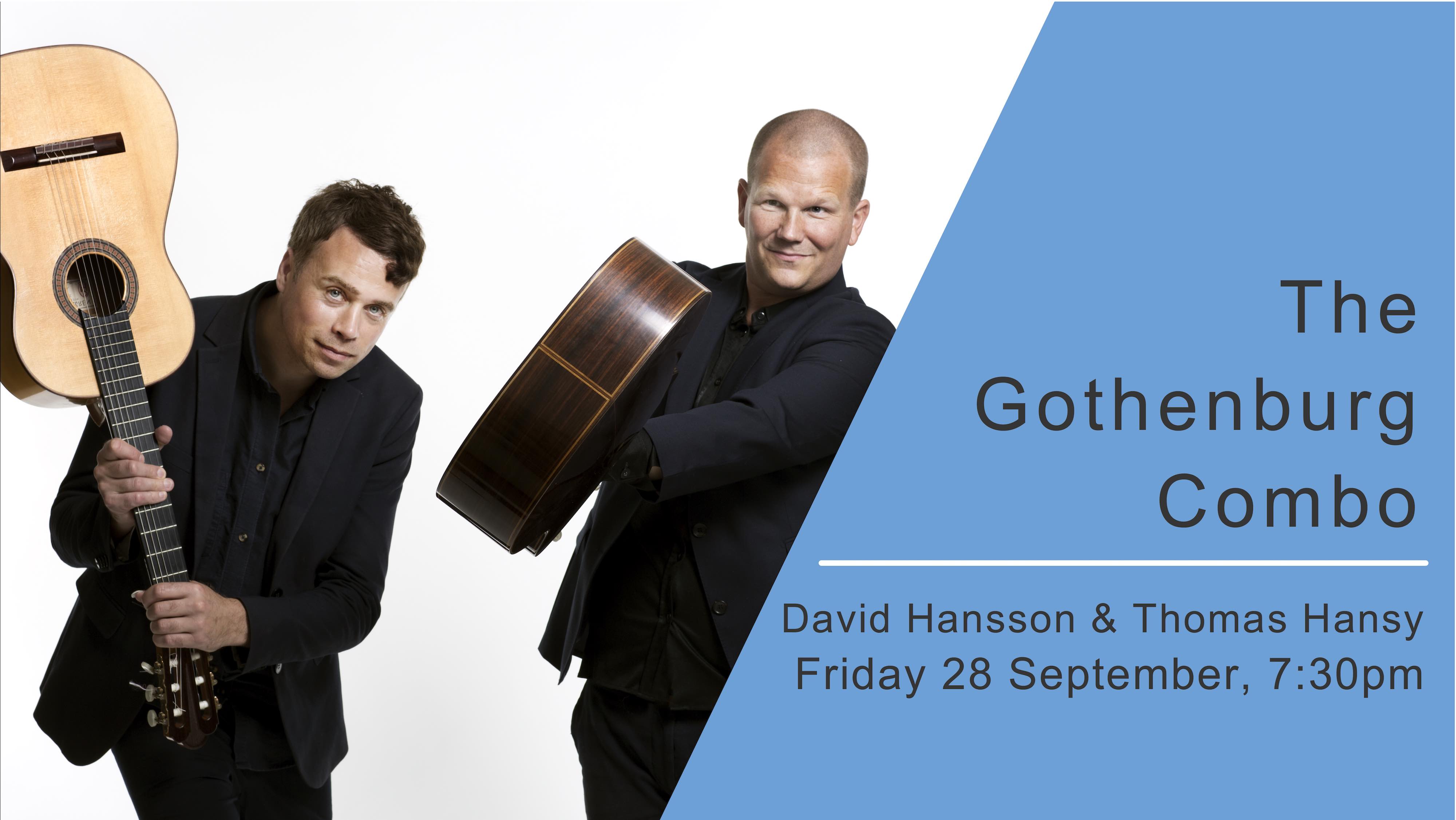 The Brisbane International Guitar Festival, the Swedish Arts Council, Guitar Brisbane and Magda Community Artz are delighted to bring to Brisbane the Gothenberg Combo.
One concert only:
Friday, 28th September, 7.30pm.
Presented by Magda Community Artz Assoc, Inc with financial assistance of Swedish Arts Council.
Venue: BrisWest Community Centre, 132 Latrobe Tce, Paddington. Transport options
"Like Siamese Twins in ensemble playing they enter new guitaristic territory, with minimalistic music and quasi-electronic sounds on acoustic Guitars." – Süddeutsche Zeitung, Germany
"Tenderness and delicacy, sensitivity and perfection. But also playfulness and exuberance, virtuosity and sheer joy… The Gothenburg Combo plays classical music with pop appeal, exudes an irresistible life-affirming sense of humor and belong with these qualities to the leading guitar duos of the world." – Westdeutsche Allgemeine Zeitung, Germany
"Expressing the spirit of both Jimi Hendrix and Andrés Segovia" – Jönköpings-Posten, Sweden
"A dazzlingly virtuosic and innovative music for the world's most nomadic instruments that create breathtaking crossings between the already known and the never before heard" – Dagens Nyheter, Sweden (on The Gothenburg Combo's composition "The Seven Continents")
 Magda Community Artz wishes to advise that we have been far too successful – not just in bringing some of the nation and world's leading guitarists to Queensland, but in all the genres we present. Although the 80 Boundary Rd site is a wonderful location and has glorious acoustics and delightful ambience, there are several reasons for needing a more spacious venue. Apologies if this appears to create uncertainty, but our events will continue to prosper and grow.
Further queries, please email: magdacommunityartz@gmail.com or phone Mervyn: 0400 497 422.
---
New Zealand Guitar Quartet
Saturday 2nd June 2018,  7:30pm – 10:00pm
The Brisbane International Guitar Festival, Guitar Brisbane and Magda Community Artz are proud to present the New Zealand Guitar Quartet. Following a sold out 2017 tour of New Zealand, the NZGQ have been hailed as a national treasure, and have received funding help from the government backed Creative New Zealand to bring them to Brisbane in June. Originally based in Wellington New Zealand the NZGQ are now based on both sides of the ditch. Owen Moriarty and Jane Curry in Wellington, Vladimir Gorbach in Sydney and John Couch in Canberra. Internationally accomplished musicians, they play a wide variety of styles from American Bluegrass and Celtic melodies and dances to their critically acclaimed interpretations of Bach's Third Brandenburg Concerto.
---
Thibaut Garcia
Friday 24th November 2017,  7:30pm – 10:00pm

Guitar Brisbane and Magda Community Artz are thrilled to present Franco-Spanish guitarist, Thibaut Garcia; winner of the 2015 GFA International Concert Artist Competition and Warner Classics recording artist. Thibaut is known for his virtuosity, freshness, spontaneity and interpretive gesture, using the guitar as a natural extension of his own voice. Don't miss Thibaut's only Brisbane concert as part of his Australian debut!

Book Now
---
José Maria Gallardo del Rey
Saturday 25th November 2017,  7:30pm – 10:00pm

Guitar Brisbane and Magda Community Artz are thrilled to present Spanish, flamenco inspired, classical guitarist José María Gallardo del Rey. Since his debut in Seville at the age of nine, José María has achieved universal public and critical acclaim. As a mature artist with a profound affinity for all aspects of the guitar, he has become a leading authority on the instrument among conductors and players alike, and a soloist in great demand by orchestras throughout the world.
---
Lorenzo Micheli
Friday 29th September 2017, 7:30pm – 10:00pm

Lorenzo Micheli has taken up a busy concert career throughout the world since winning the first prize in some of the most prestigious international guitar competitions (Alessandria, "Guitar Foundation of America"). He has played more than 600 concerts all over Europe, in 200 US and Canadian cities, in Africa, Asia, Australia and Latin America, as a soloist and with orchestra. Since 2002 he has been performing worldwide in duo with Matteo Mela – under the name of "SoloDuo" – in such venues as New York's Carnegie Hall, Seoul's Sejong Hall, Kiev's Hall of Columns and Vienna's Konzerthaus. Their duo was welcomed by "The Washington Post" as "extraordinarily sensitive – nothing less than rapturous".
Plus MASTERCLASS by Lorenzo on Saturday 30th September at Magda's with some of South-east Qld's foremost guitarists.
---
Clyde's Water: Fiona Ross & Tony McManus
Saturday 17th June 2017, 7:30pm – 10:00pm
Clyde's Water
is the stunning new album from esteemed Scottish traditional singer
Fiona Ross
, with master of Celtic guitar,
Tony McManus
. A superb example of the traditional style, this album brings together Fiona's honest, evocative singing and Tony's unrivalled guitar-playing to showcase Scottish songs in all their richness and diversity.
Fiona Ross
Fiona grew up in Partick, in the west end of Glasgow, also spending time at her step-family home in North Tolsta on the Isle of Lewis during her teenage years. The youngest of a busy household of five children, she inherited a love of Scottish music from her dad, and began singing popular Scottish songs from a young age. It was in the 1980s that Fiona truly embraced the Scots song tradition, immersing herself in Edinburgh's vibrant folk scene and serving her apprenticeship in the folk clubs and memorable singing sessions of the time. She was fortunate to be singing at sessions in the company of many fine singers who remain at the heart of the tradition in Scotland and who are some of Fiona's favourite singers to this day – Aileen Carr, Maureen Jelks, Cy Laurie and Danny Couper to name a few.
Fiona then joined the group Handsel with Scottish folk scene stalwarts Brian Miller, Gavin Livingstone and fiddler Anna-Wendy Stevenson, performing at traditional music festivals around the country.
Since moving to Melbourne in 2009, Fiona has continued to pursue her passion for Scots song. In addition to her busy schedule of concerts, workshops and talks, she is currently completing a PhD through the University of Melbourne Conservatorium, working with traditional singers in Scotland and overseas to explore and document the importance of a singing style and tradition that is now rapidly changing. As a singer of Scots song, Fiona was mentored by esteemed tradition bearer Andrew Hunter.
Tony McManus
Tony McManus has come to be recognised throughout the world as the leading guitarist in Celtic Music. From early childhood his twin obsessions of traditional music and acoustic guitar have worked together to produce a startlingly original approach to this ancient art. In Tony's hands the complex ornamentation normally associated with fiddles and pipes are accurately transferred to guitar in a way that preserves the integrity and emotional impact of the music.
His playing described by Tommy Emmanuel as "beyond beautiful" and deemed by John Renbourne as the "best Celtic guitarist in the world" – Tony McManus presents a virtuoso performance of guitar styles from around the world, played equally with passion, precision & astounding technique.
---
Acoustic Guitar Spectacular!: Richard Gilewitz & Michael Fix
Friday 16th June 2017, 7:30pm – 10:00pm
"a night of guitar artistry, fun and humour"
Michael Fix
Brisbane-based, three times Golden Guitar winner Michael Fix is known as a leading exponent of contemporary acoustic guitar, and a consummate performer. His fretboard skills, unique style, and good-natured humour have earned him an international reputation as a concert drawcard – with a sound that is distinctively Australian and highly original in its presentation.
Over the past two decades, he has released 15 albums. His latest release is the evocative Bending Air, which features a collection of exquisite new original pieces, together with unique arrangements of some of the songs that have inspired him over the years.
Richard Gilewitz
Recognized world-wide as a performer who has a quirky take on everything around him,
Richard Gilewitz
continues to live up to this depiction with rousing shows filled with offbeat observations combined with his right-hand wizardry and technique. Much of the charm of a Gilewitz performance is in the humorous stories he tells.
Whether playing solo, conducting guitar seminars and school programs, or sharing the stage with folks such as Stephen Housden, Brooks Williams, Michael Fix, The California Guitar Trio, John McCutcheon, John Renbourn, Mose Allison, the late John Fahey, Leo Kottke, Norman Blake, Indigo Girls, or John Hammond, Richard always invites the audience to join him on a journey filled with twists and turns at every tune.
---
Möller-Fraticelli Guitar Duo
Saturday 18th March 2017, 7:30pm – 10:00pm
"unique fusion of Swedish perfection & Argentinian passion"

Swedish born, Johannes Möller's close collaboration with the Argentinian guitarist Laura Fraticelli have resulted in a unique form of musical expression. Their emotional playing style as well as their strong connection and stage presence make their performances unforgettable events.
Möller-Fraticelli Guitar Duo have performed throughout Europe, North and South America as well as on radio and TV. Their repertoire includes Johann Kaspar Mertz (1806-1856), and Argentinean tangos originally composed for guitar duo as well as their own original compositions.
Johannes Möller
European guitarist and composer
Johannes Möller
has captivated audiences throughout the world with charismatic and soulful performances. Based in the Netherlands, Möller was awarded First Prize in the 2010
Concert Artist Competition Guitar Foundation of America
 (GFA) – considered by many to be the most prestigious guitar competition in the world. As a performer his artistry has reached well beyond the usual guitar circles. This was confirmed when he won the
Ljunggrenska Competition
(Sweden, 2007) and the Dutch
Vriendenkrans Concours
(2008) while competing against performers in all instrumental categories.
"Johannes Möller achieved miracles with his lucid, spacious playing." London Evening Standard.
* In September 2016, Johannes become the head of classical guitar studies at the
Conservatorium van Amsterdam
. Johannes has been working with students at the conservatory for some time.
* " Johannes Möller is not only a guitarist with a brilliant technique. He has something more. A charisma which transforms him to something more than just a man with his instrument. Listen to the solo introduction in Leo Brouwer's Concierto Elegiaco for guitar, strings and percussion. The Cuban origin permeates this delicious work. Möller is magnificent with his shimmering guitar playing. It is breathtaking, devotional and masterful." Norrländska Socialdemokraten.
Laura Fraticelli
Born in Buenos Aires, Argentina, Laura Fraticelli studied with Tzvetan Sabev, Walter Ujaldón and Eduardo Fernández. A love for music gave her the courage to emigrate to Europe where she continued her studies at the Royal College of Music in London with Carlos Bonell and then later at the Royal Conservatory in The Hague where she was accepted in the class of the renowned guitarist Zoran Dukic. She has been praised for her beautiful tone and passionate interpretations.
---
What an unbelievable weekend of music at Magda's "Brisbane International Guitar Festival"!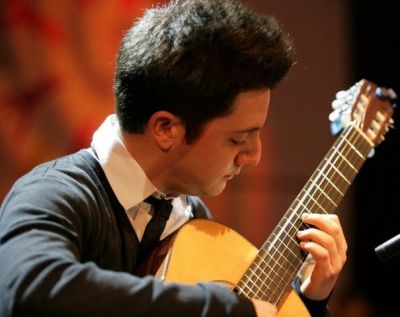 A huge thank you to Michael MacManus and Evan Hopkins (MGF), for making this possible!
In conjunction with the Melbourne International Guitar Competition 2016, The Melbourne Guitar Foundation, Magda Community Artz is delighted to bring musicians like Adriano and Gian to you!
---
Adriano Del Sal
Saturday 1st October 2016, 7:30pm – 10:00pm
Gramophone ("the world's best classical music reviews"): " … It's not often you get to hear Fernando Sor and Ennio Morricone on the same programme. But that's just one of the attractions in this enjoyable recital by young guitarist Adriano Del Sal …. Admittedly Carlo Marchione's arrangement for solo guitar of the famous "Gabriel's Oboe" from Morricone's score for "The Mission" is strictly encore fare, and Del Sal does well to perform it last here, where it makes for an enjoyable after-dinner mint."We promise we'll have lots of after-dinner mints here for you on October 1st!
Segovia Guitar Academy: "Exceptional musical talent, deep artistic sensitivity, and complete technical mastery of his instrument make Adriano Del Sal's playing unique and unforgettable…"